FOR A MEANINGFUL GETTING-READY
FOR A MEANINGFUL GETTING-READY
You may not realize that your wedding does not begin with the vow ceremony. It begins when you are getting ready inside the hotel room. This pre-wedding session can impact the entire timeline, so it's important to plan ahead of time. Therefore, here are our top dos and don'ts to ensure you can enjoy the celebration at its best.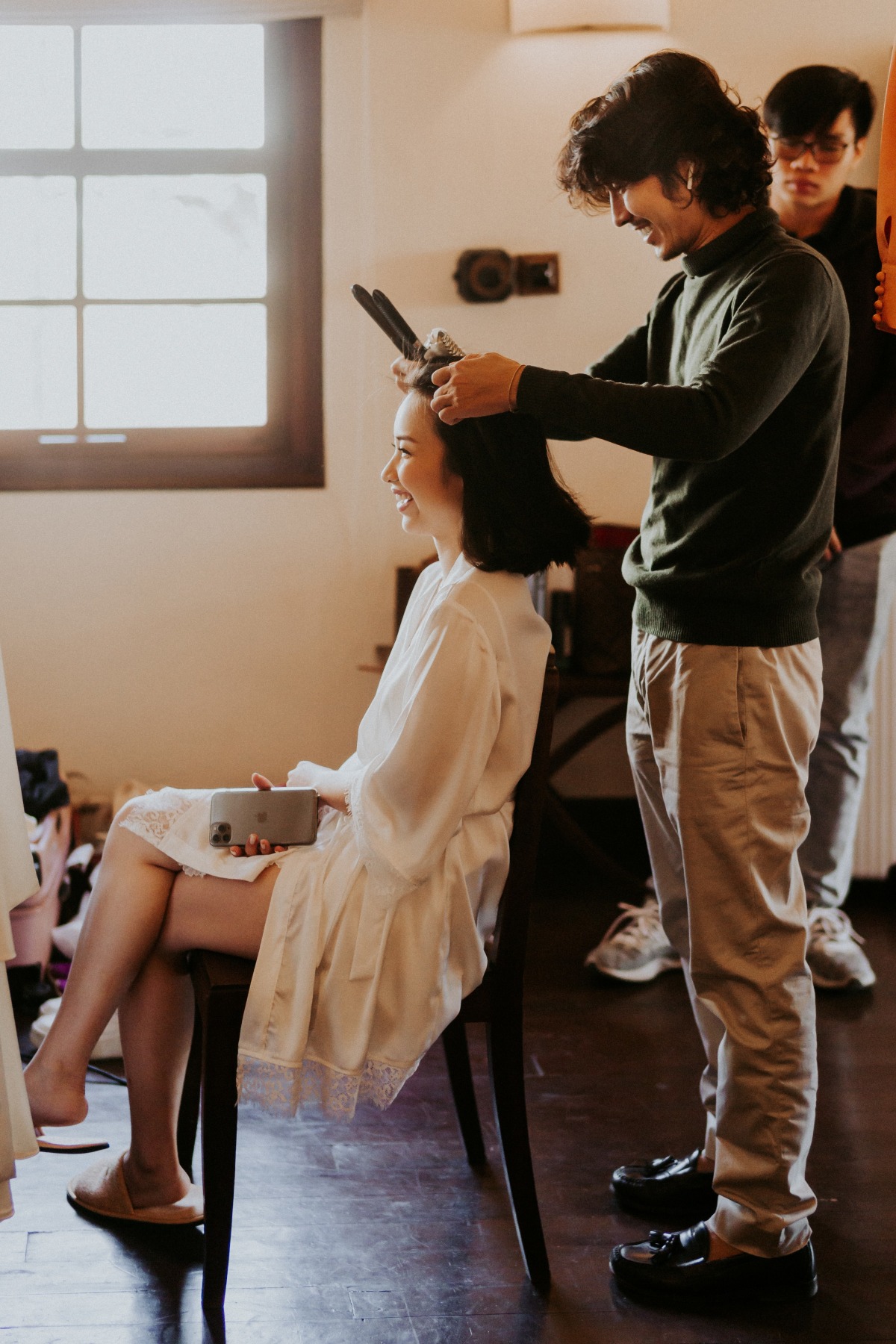 How long is the
getting-ready?
How long is the getting-ready?
Usually, a makeup artist will need 60 to 90 minutes to work on the wedding makeup and another 60 to 90 minutes to dress up the bride's hair. This amount of time might be more than you think, but they need time (and a good mood) to set up & create the perfect look.
That said, you need to eat, too. Prepare some light food to enjoy with your bridesmaids so that the photographer can capture more meaningful moments. For this reason, we suggest starting three to four hours before the ceremony.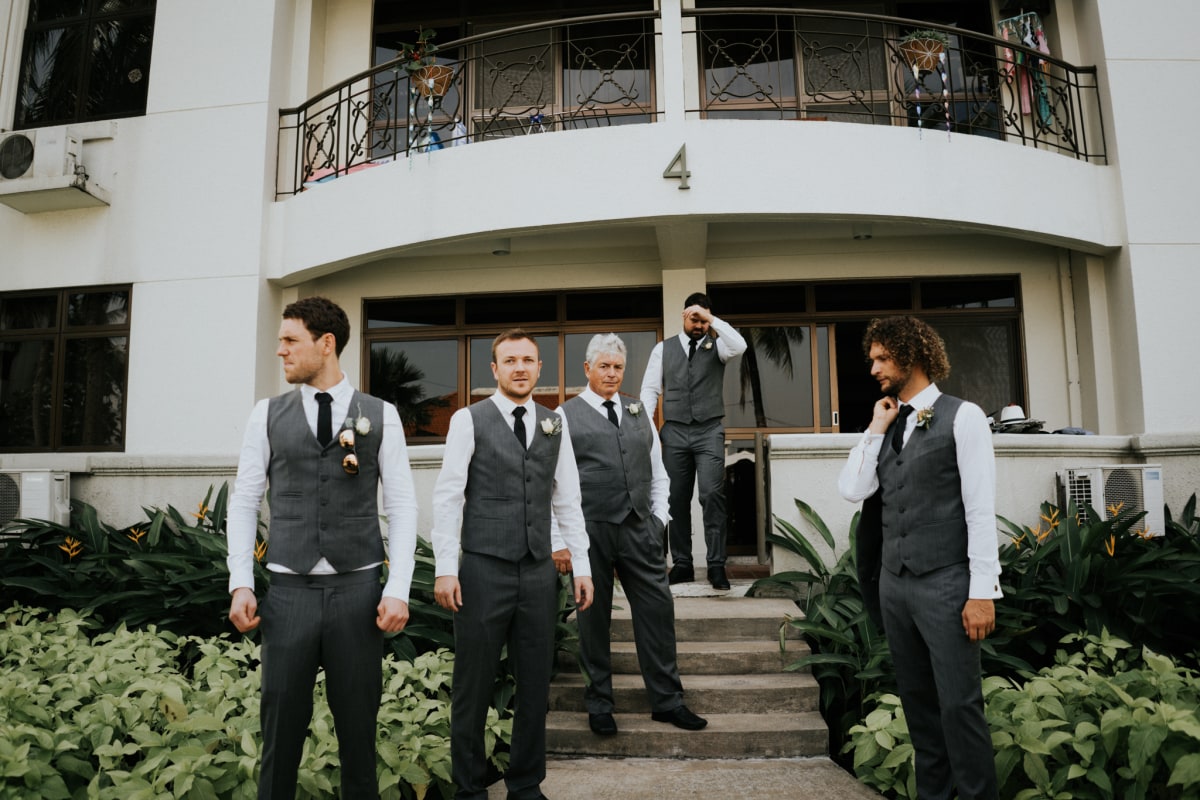 What to wear during the Getting-ready?
Soft and comfortable outfits are recommended while you get ready. Many options include silk Robes with embroidered names, colorful pajama sets, or simply an elegant nightdress are excellent choices for you and the bridal party. Keep in mind to stay away from clothes that you have to pull over your head. You should only wear wide collar shirts or robes to avoid interfering with your hair and makeup after it is done.
For the Groom and Groomsmen, casual & simple outfits are suitable.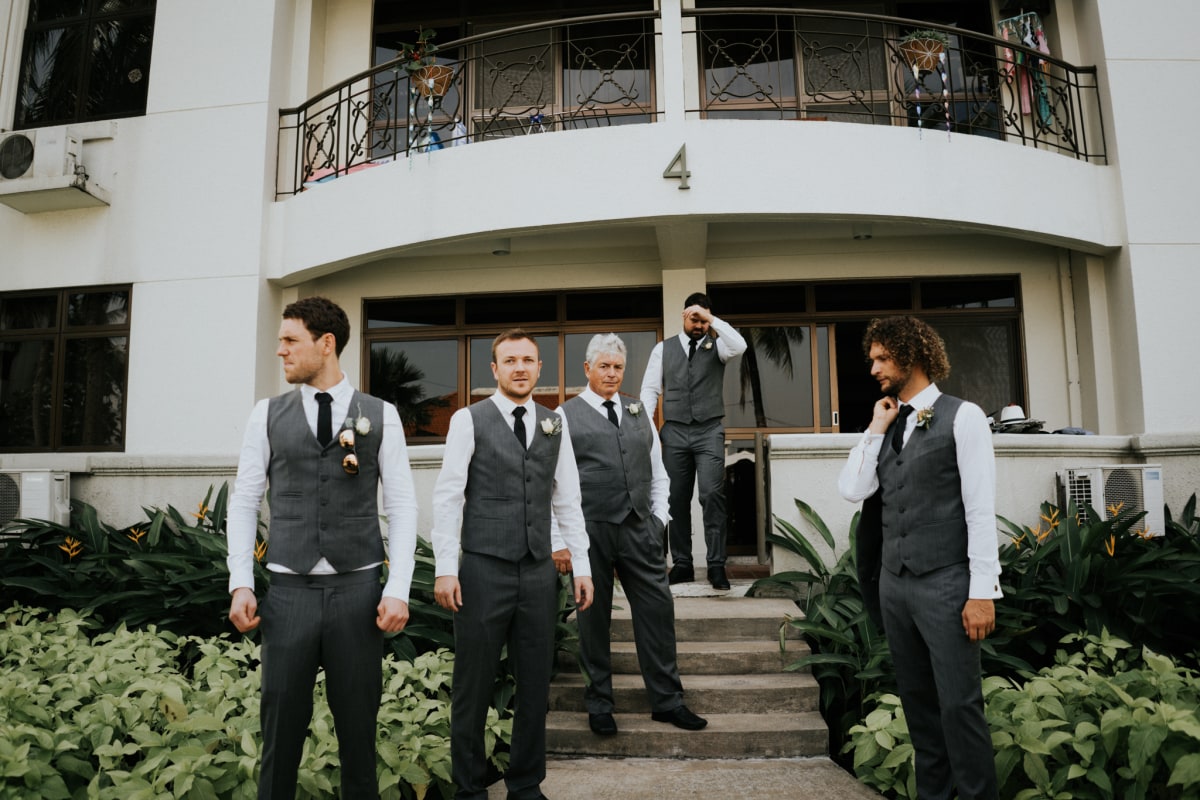 DO AND DON'T DURING
GETTING-READY
DO AND DON'T DURING GETTING-READY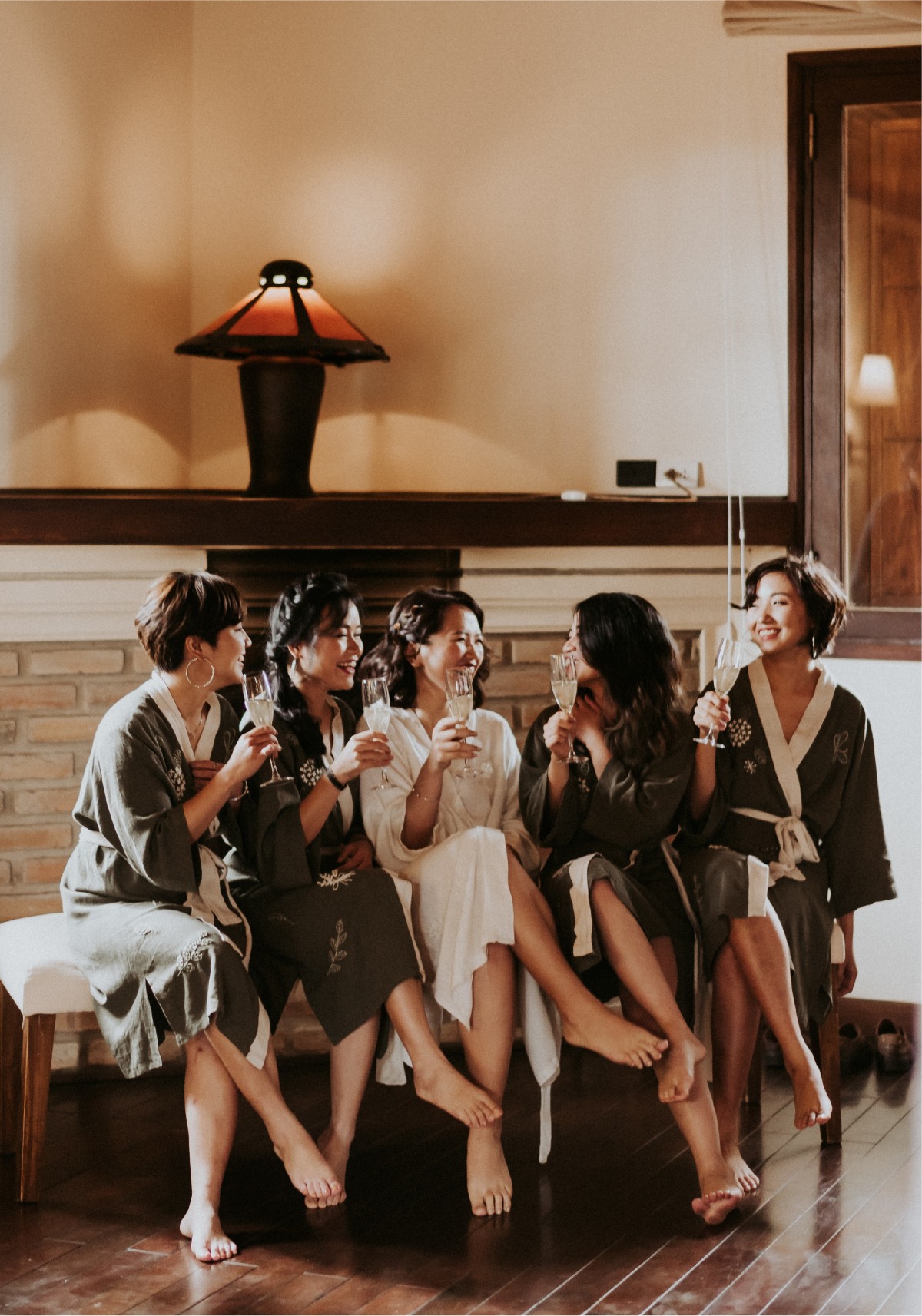 Have a time-wise wedding-day schedule
First thing first, determine who you're going to get ready with. Would you have wine and snacks with bridesmaids? How much time do you need to take pictures with everyone? These questions will help you draft out a specific timeframe for the Getting-ready.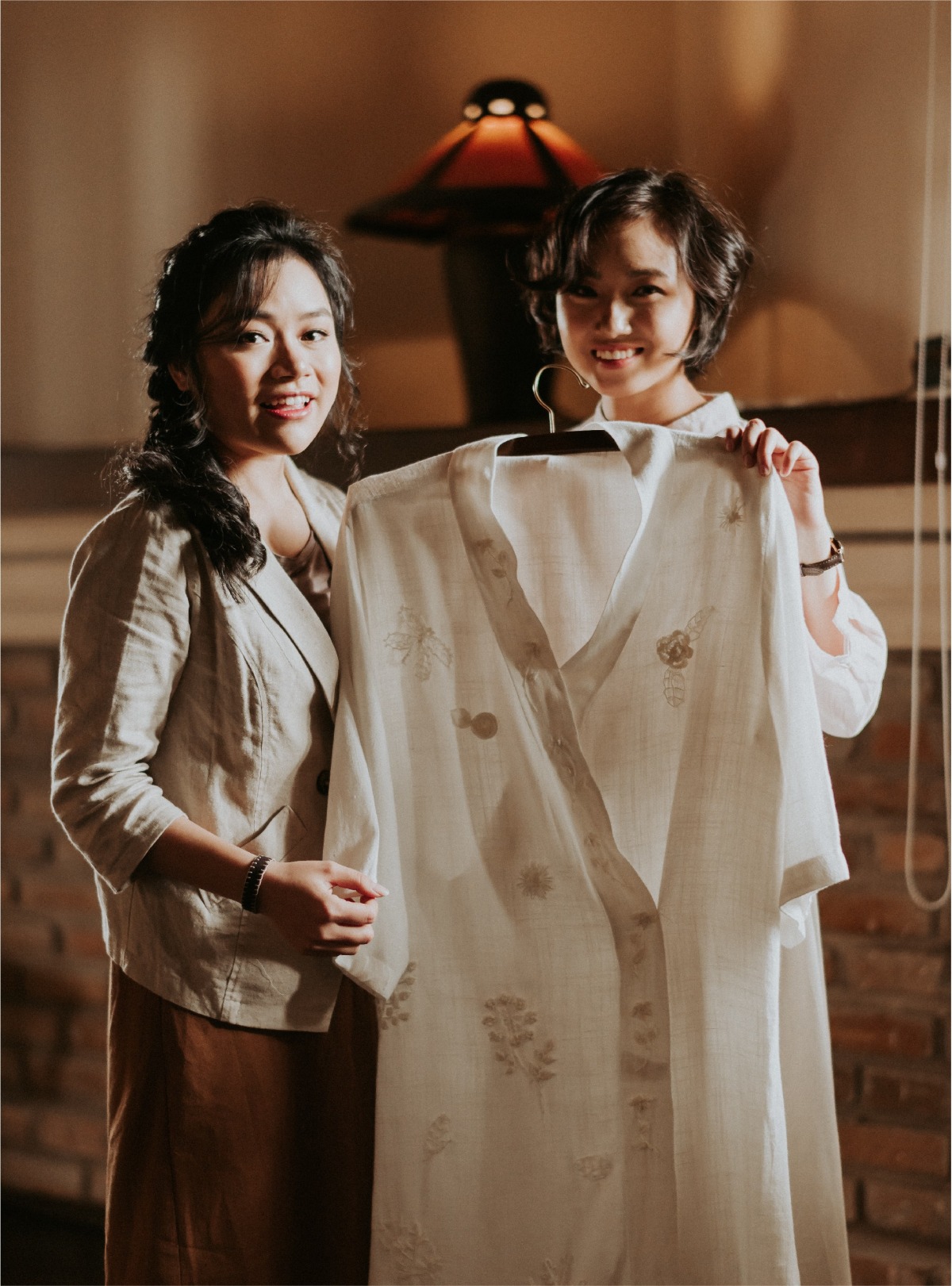 Family and bridesmaids will take less time to get ready than a bride does, roughly 45 minutes. Plan out a detailed timeline so that you can make it to the ceremony on time.
Forget your wedding dress
Keep your wedding dress out of the way until all the prep is taken care of. If they are unique in length, hang your dress (and veil) high and separate. Double-check if the lingerie and accessories that come with the dress have been handed over! Most importantly, if your wedding dress needs to be ironed or steamed, don't hesitate to ask your bridesmaid or a friend for help.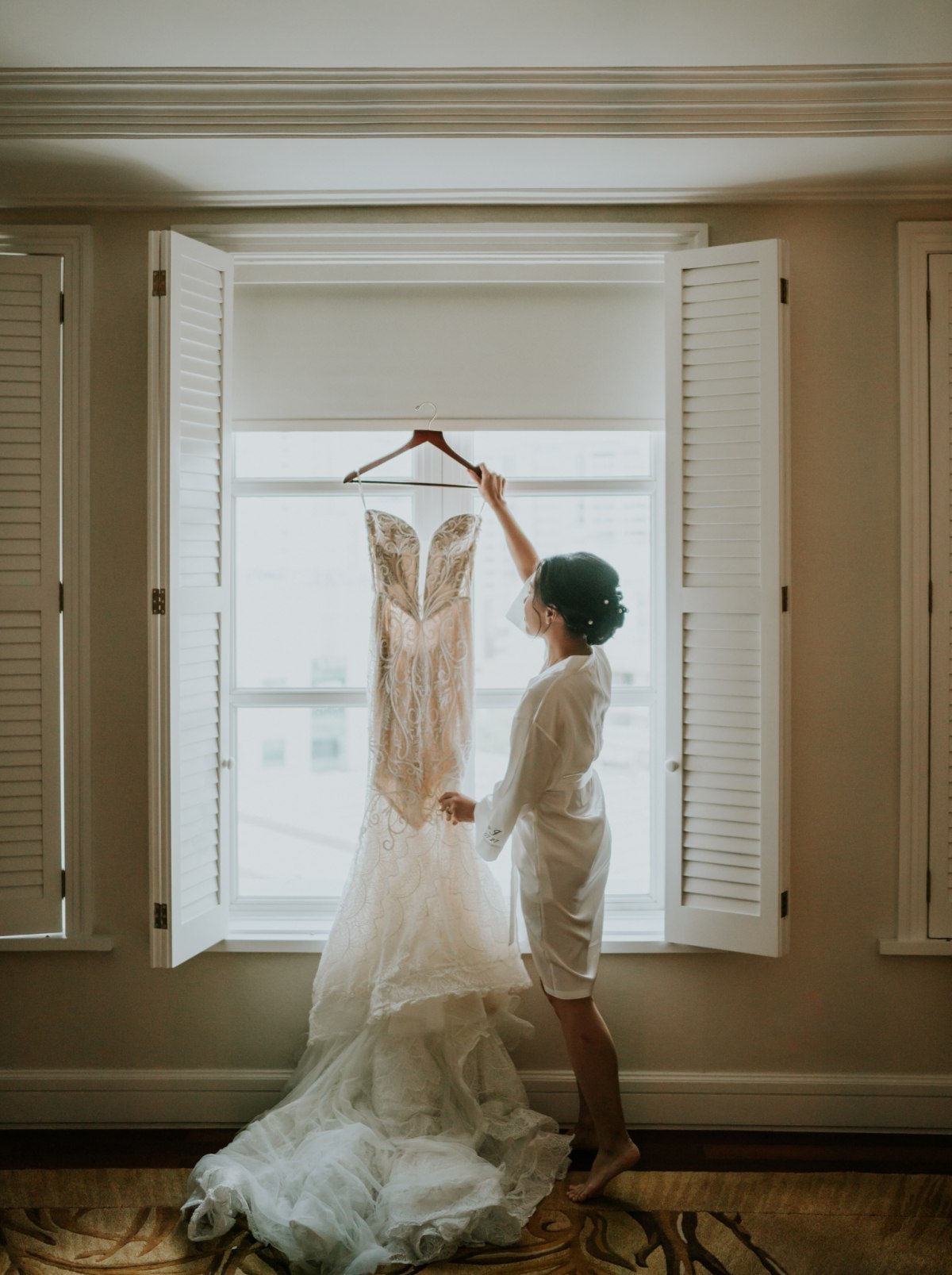 Prepare food and drink for the bridal party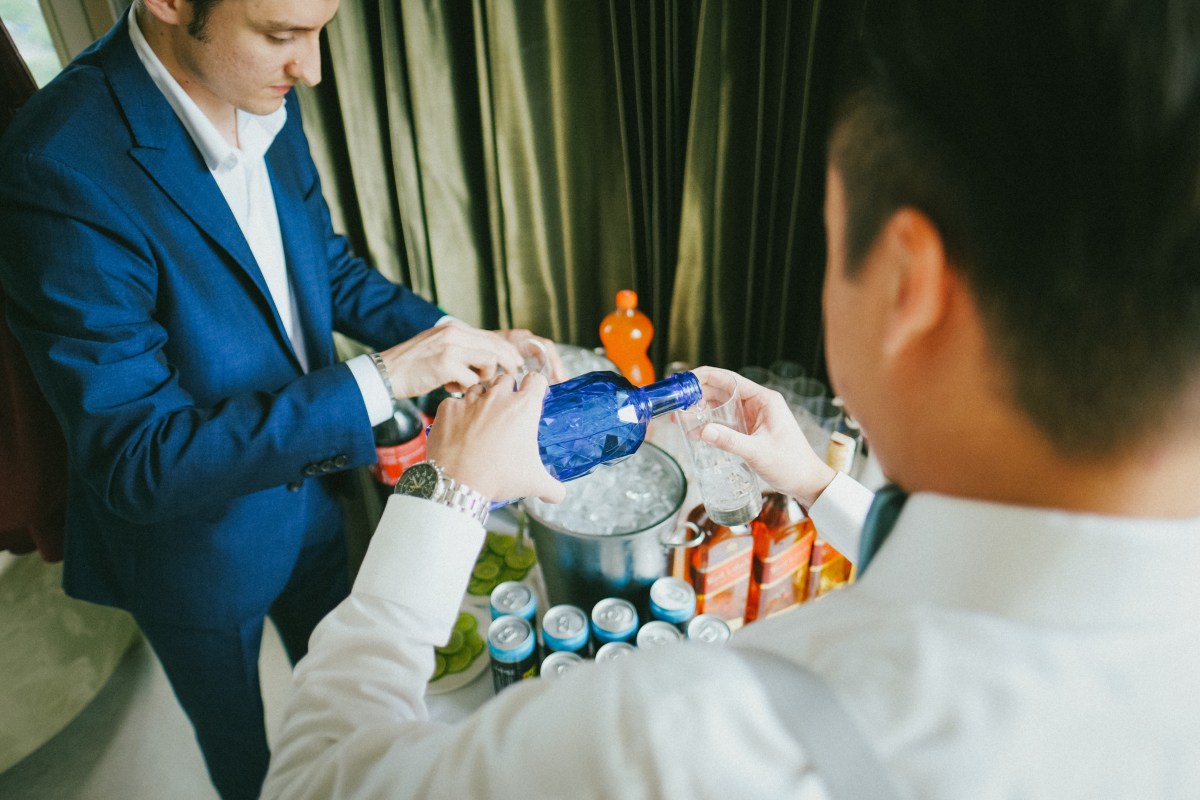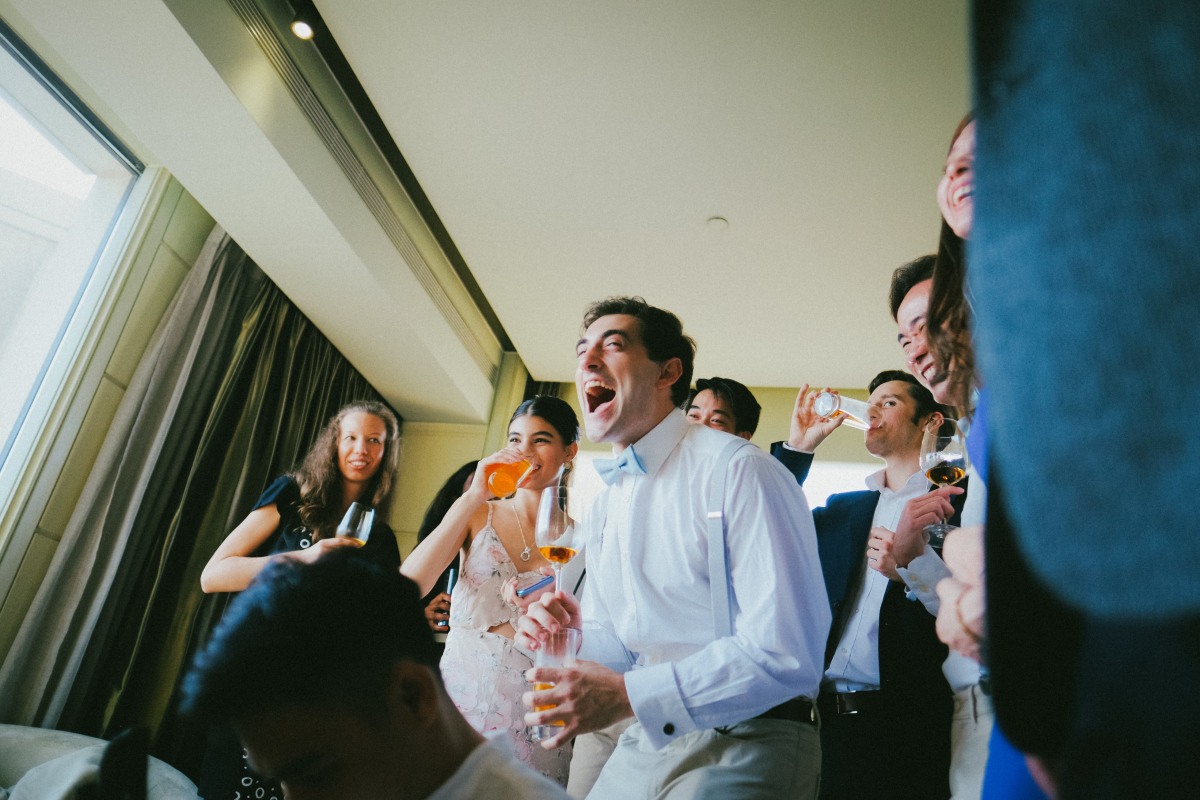 Prepare food and drink for the bridal party
Order a box of pastries, sandwiches, fruits, or snacks for everyone. If you want to have a little pregame with the Bridesmaids or Groomsmen, ask the hotel manager to set up glasses and bring in a bottle of wine for everyone. Keep in mind that drinking too much alcohol could give you a headache. Meanwhile, also drink a lot of water throughout the getting ready process, as you'll want to be hydrated for the long day ahead.
Skip your favorite playlist
Music triggers emotions. If possible, ask your friends to bring a small speaker and play your favorite playlist. The closer you are to the ceremony, the more nervous you are. Therefore, a favorite playlist, a podcast, or just some great, random audios will help you relax and stay calm.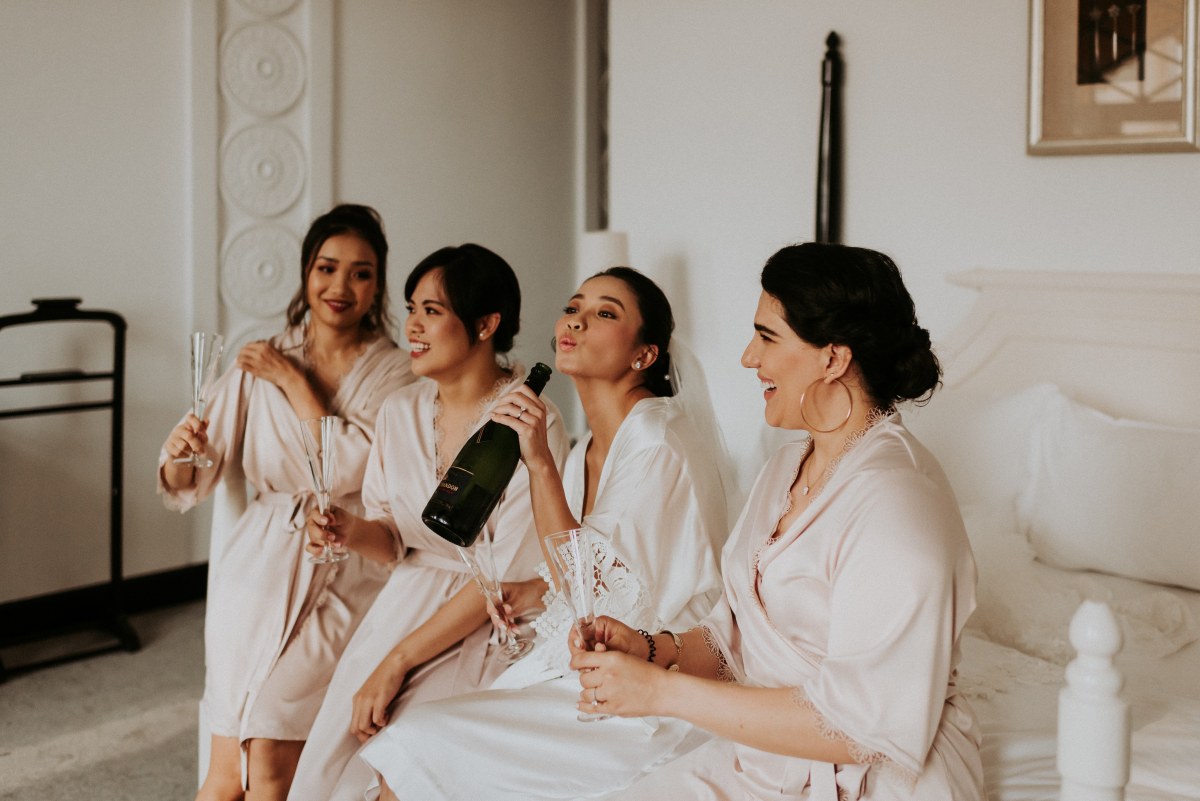 Make sure you have enough room for the Getting-ready
Make sure you have enough room
for the Getting-ready
If you want to get ready with your bridesmaids/groomsmen in the same room, make sure the room is big enough for everyone. Don't forget to keep room for your makeup artists, hair stylists, photographer, videographer, and wedding planner(s). Last but not least, people will need to charge their phones. Hairstylists will need many sockets for blow-dryers, curlers, straighteners,… so ask the hotel manager to prepare a few extras outlets in advance.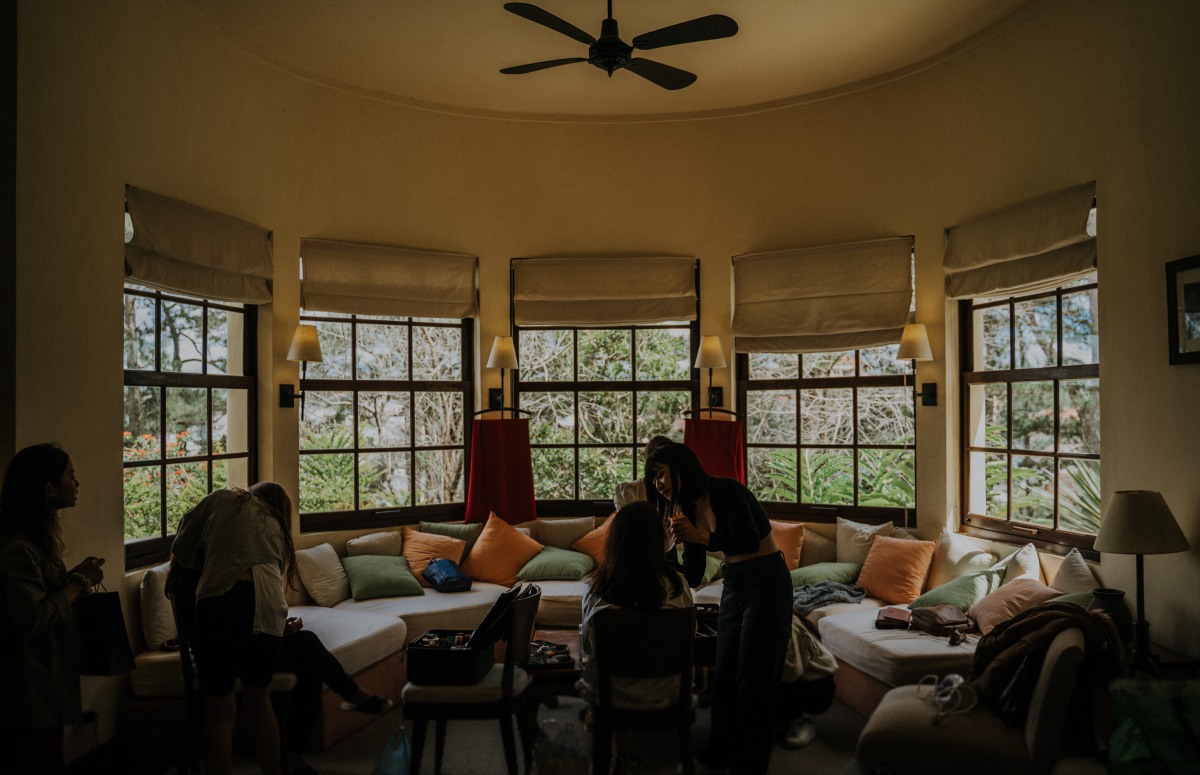 Forget to bring the necessary items
Have fun with the bridesmaids & groomsmen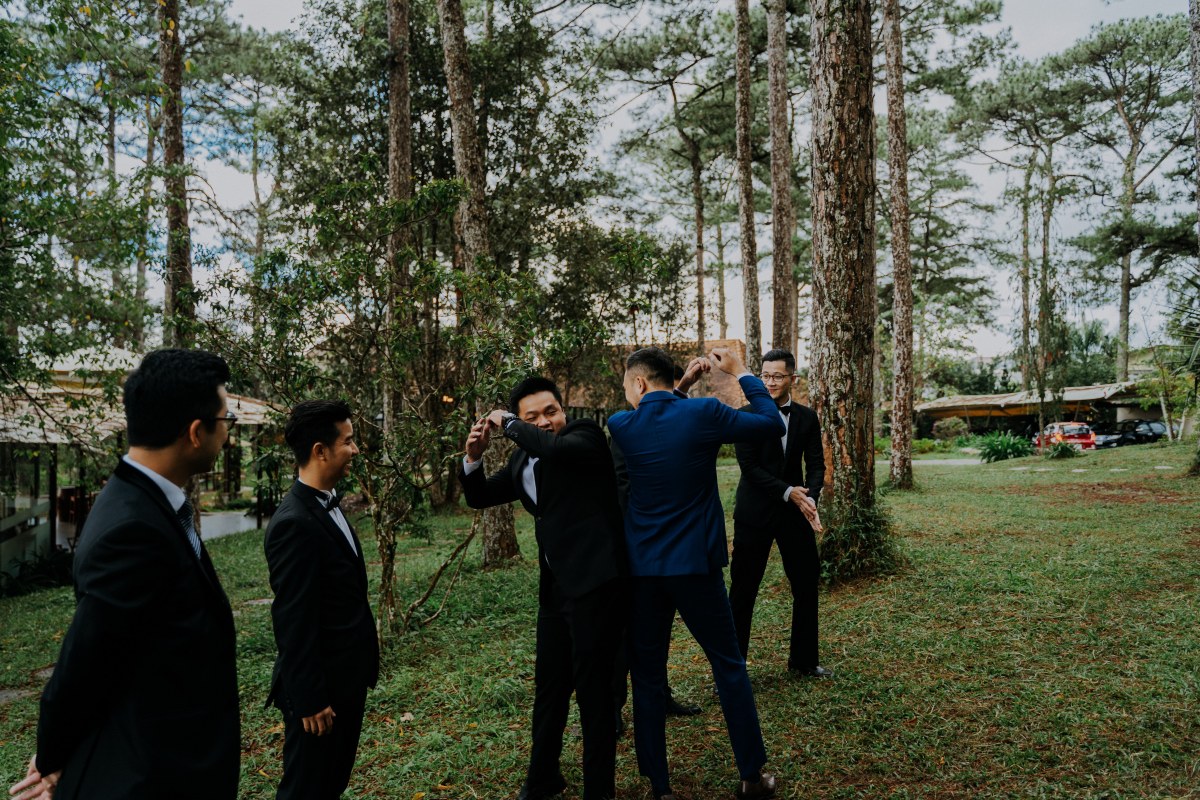 In addition to just drinking and eating, you can make the getting-ready time even more memorable by organizing some fun activities. Shooting a Tiktok video or opening gifts (that you have prepared beforehand) are great ideas to have fun together.
Use a new product that you haven't used before
During the Getting-ready and even in the morning of the wedding day, don't risk trying any new product, such as a new mask, new moisturizer, or even perfume. You could possibly have an allergy or side effects to these products. Therefore, we always recommend having a trial session with your makeup artist to avoid any potential allergies. It is also helpful to discuss and define the wedding look you want.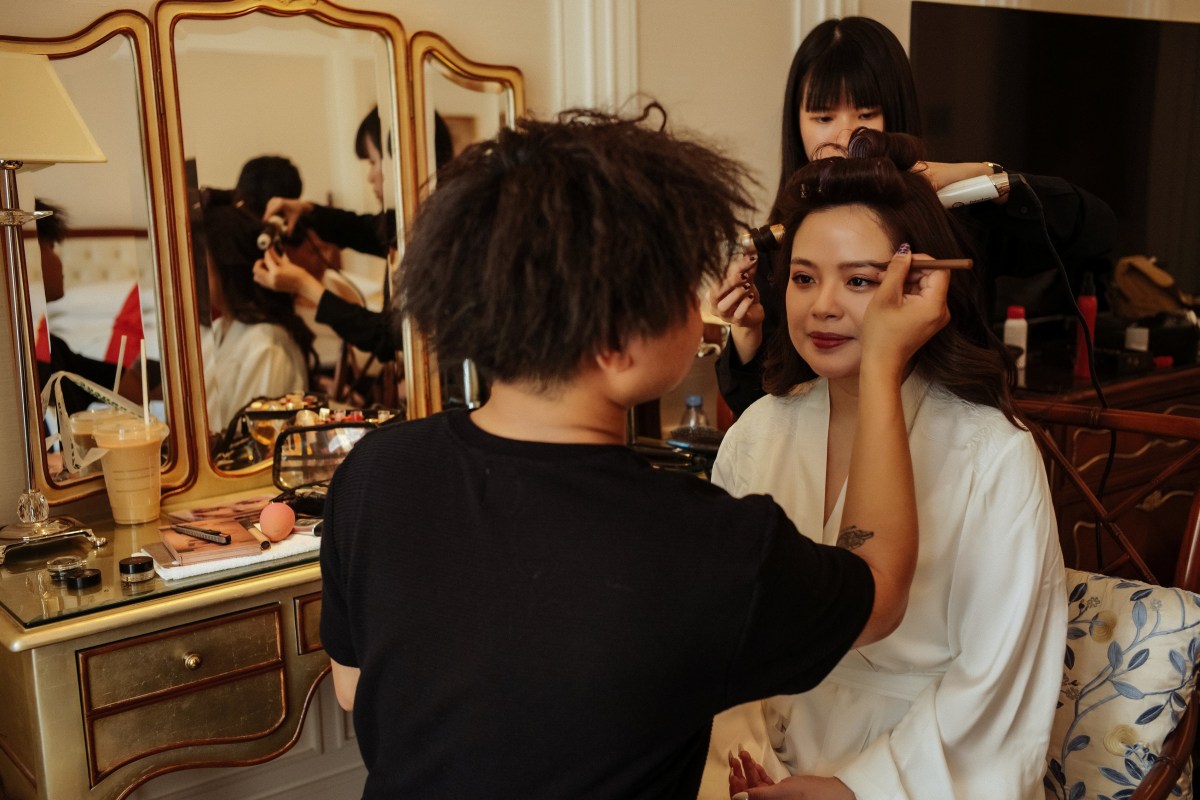 Things happen on your wedding day, and you may be distracted by all the tasks that need to be done. However, remember to live in the moment as much as possible. Allow your vendors to do their jobs and trust your wedding planner if you have one. We hope you have a memorable wedding day!