TO GET THE PERFECT WEDDING SUIT
Choosing a wedding suit is essential that any Groom should invest time and effort into. For this reason, we reached out to the head consultant at Simon Silhouette, Hoc Bui, for his advice on choosing a wedding suit. Whether you are a groom or a guest, attending a wedding in the mountains or on a beach, here are a few tips for you to consider when dressing for a nuptial.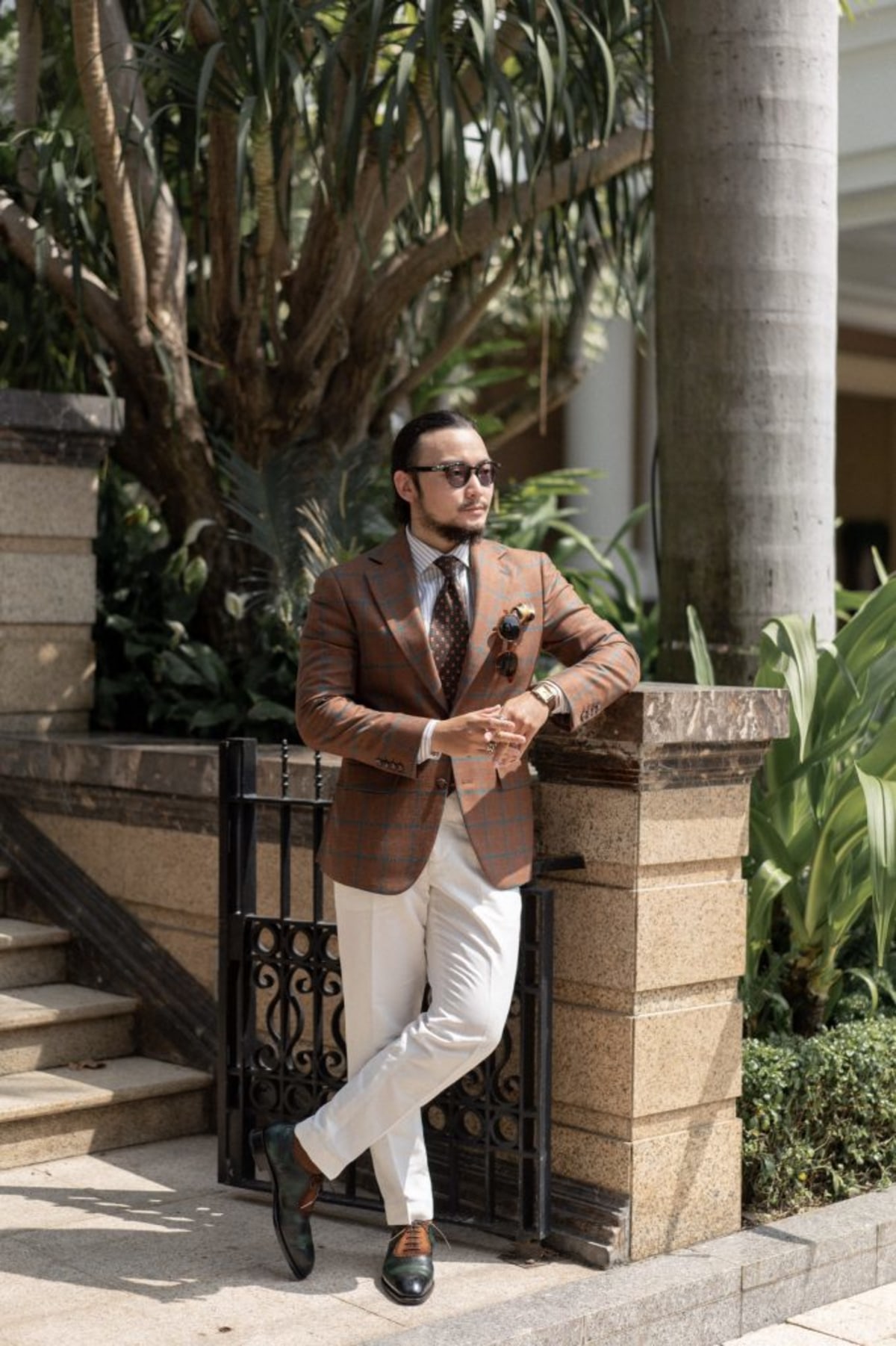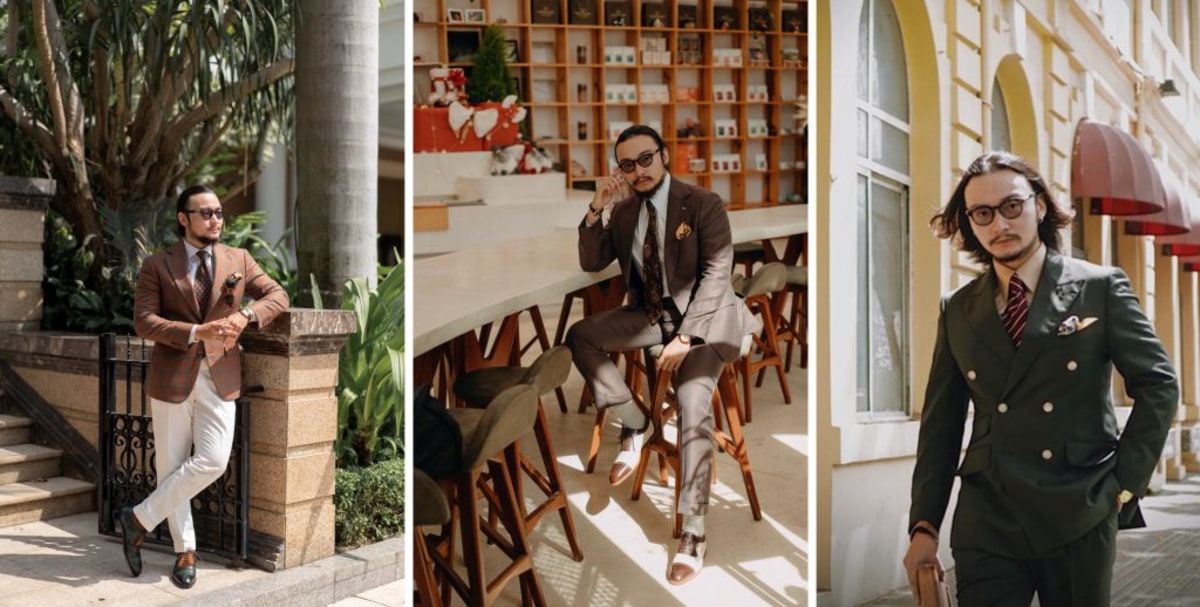 Outdoor weddings lend themselves to being more casual with lighter colors and softer material. As different venues have different characteristics, you should consider the weather before getting a wedding suit.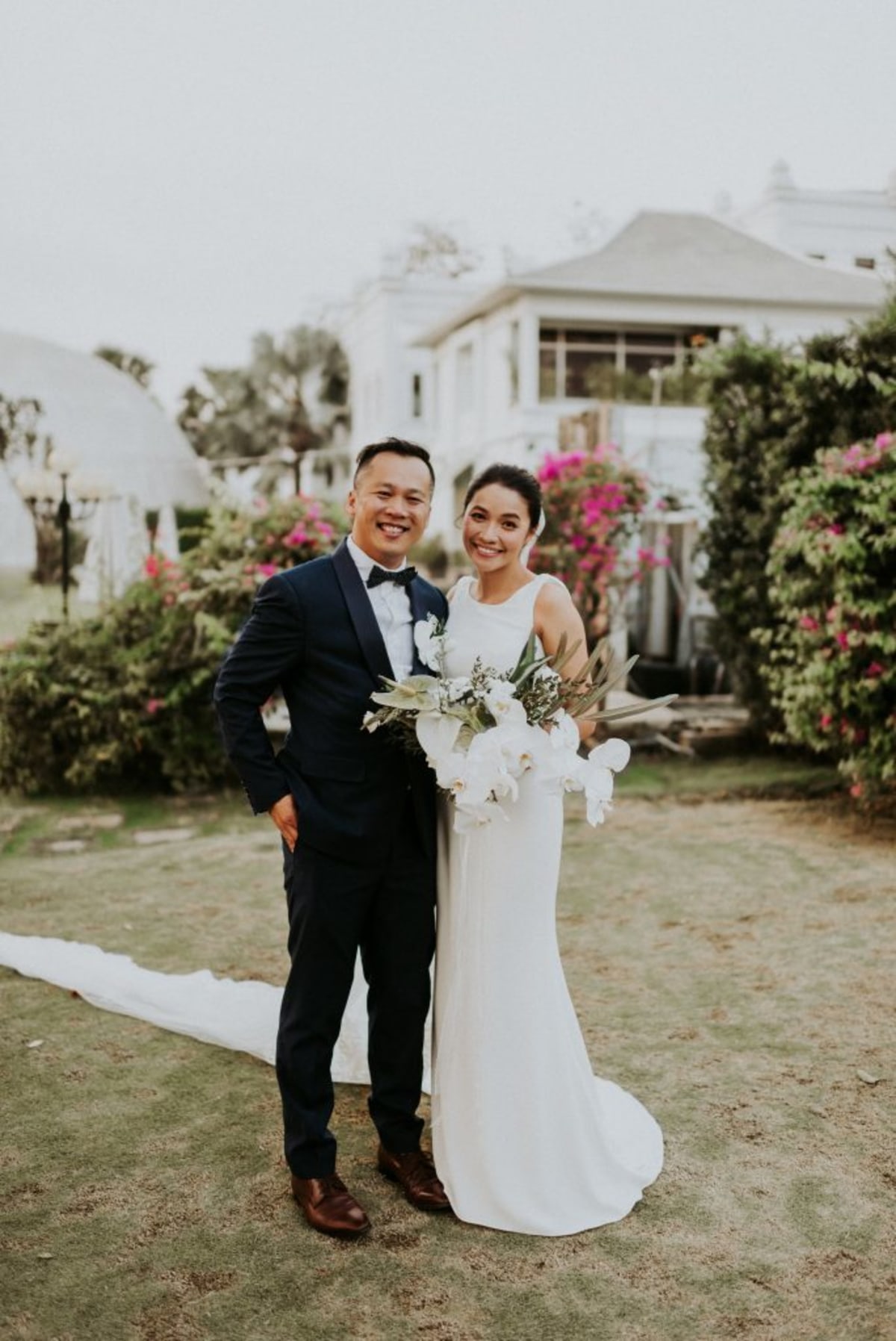 Semi-formal style: Suites that are made of linen, cotton, cotton-linen, or cotton-wool appear richer with neutral colors like white, beige, chestnut brown, or refreshing colors like navy, sky blue, or pastel pink. Consider your complexion and personal preferences to pick out the color you like.
Formal style: You can opt for wearing a modern tuxedo (which has limited features to the traditional one) by skipping details like a cummerbund, black socks, shiny black shoes. Instead, you can wear hidden socks and black espadrilles to complete the fancy look.
**Note: Fabric materials that weigh between 230-280 grams/meter are best suitable for summer/ tropical weather.
In chilled climates: A simple two-piece suit that is made of 100% wool or poly-wool (budget-friendly) would be a perfect fit. Same as choosing a semi-formal style suit, pick your color based on the wedding theme and your personal taste.
In cold climates: Choose a suit that is made of wool flannel, tweed, or cashmere (a fiber obtained from cashmere goats – one of the most luxurious materials in the textile industry).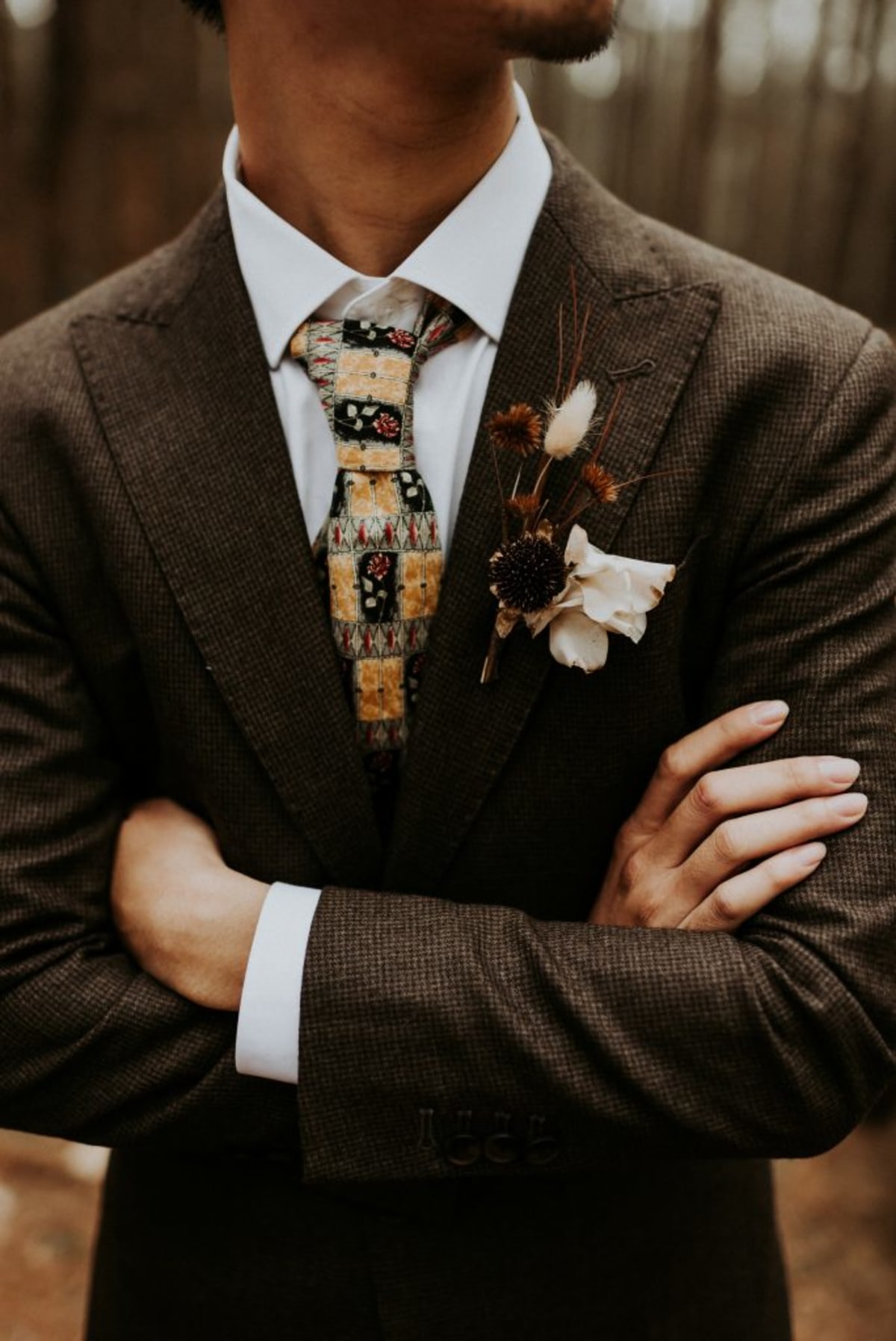 These types of material are thick, good at heat retention, and resist shrinking. Also, these materials usually come with neutrals and dark colors, which bring elegance and versatility to your appearance.
**Note: Fabric materials that weigh between 290-350 grams/meter are most suitable for cold climates.
For this type of venue, choose a suite based on the wedding's theme. Whether it is a seasonal theme or is inspired by a movie or culture like Italian, Greek, Bohemian style, etc.,
The suit should showcase your personality. Therefore, talk to your consultant or the tailor so that they can advise you appropriately.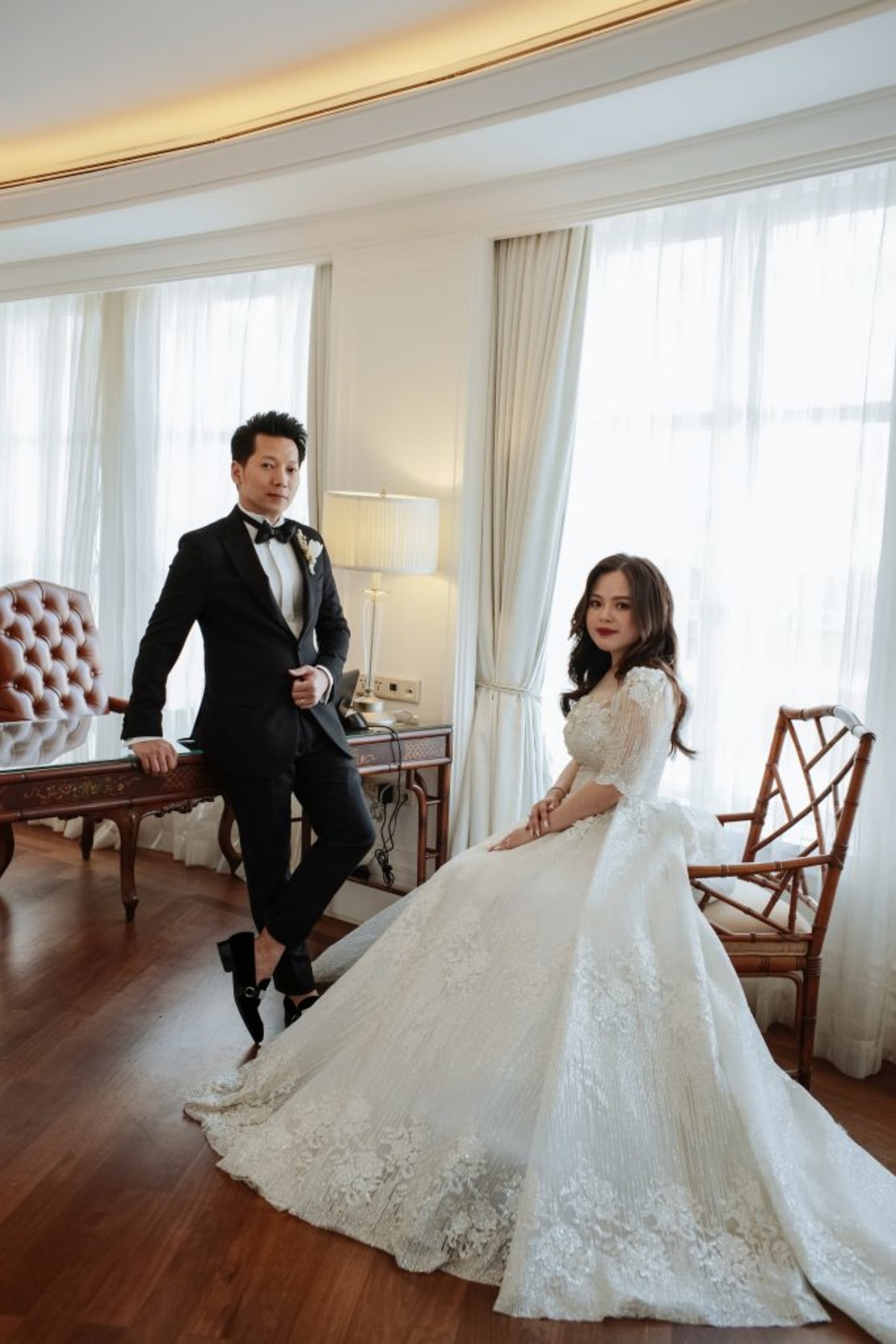 Ballroom reception vibes are often formal and luxurious. Therefore, consider the venue characteristics and the wedding setting when choosing a wedding suit.
1. BASED ON THE WEDDING SETTING
You can either choose a formal dress code like black-tie or semi-formal attire with a two-piece or three-piece suit (including a jacket, a waistcoat, and a trouser).
**Note: For the black-tie dress code, you need to pay close attention to little detail. Add accessories and restraint mixing too many different colors or fabric material.
For example, the shirt should be a wing neck. It can be paired with a satin black bow tie, black socks, cufflink, black shirt buttons, and a cummerbund.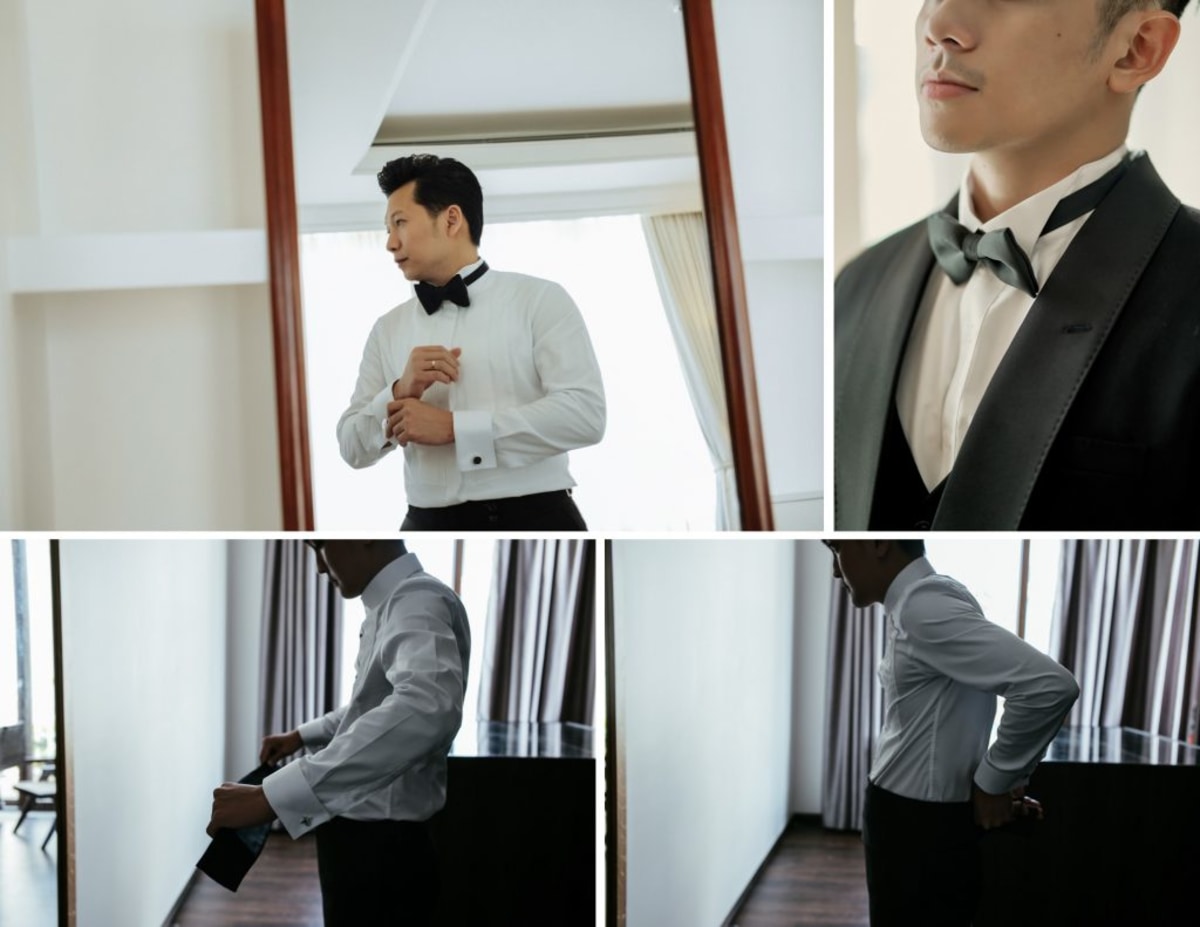 BASED ON THE WEDDING STYLE
(SEASONAL, THEMED, OR CULTURAL STYLE)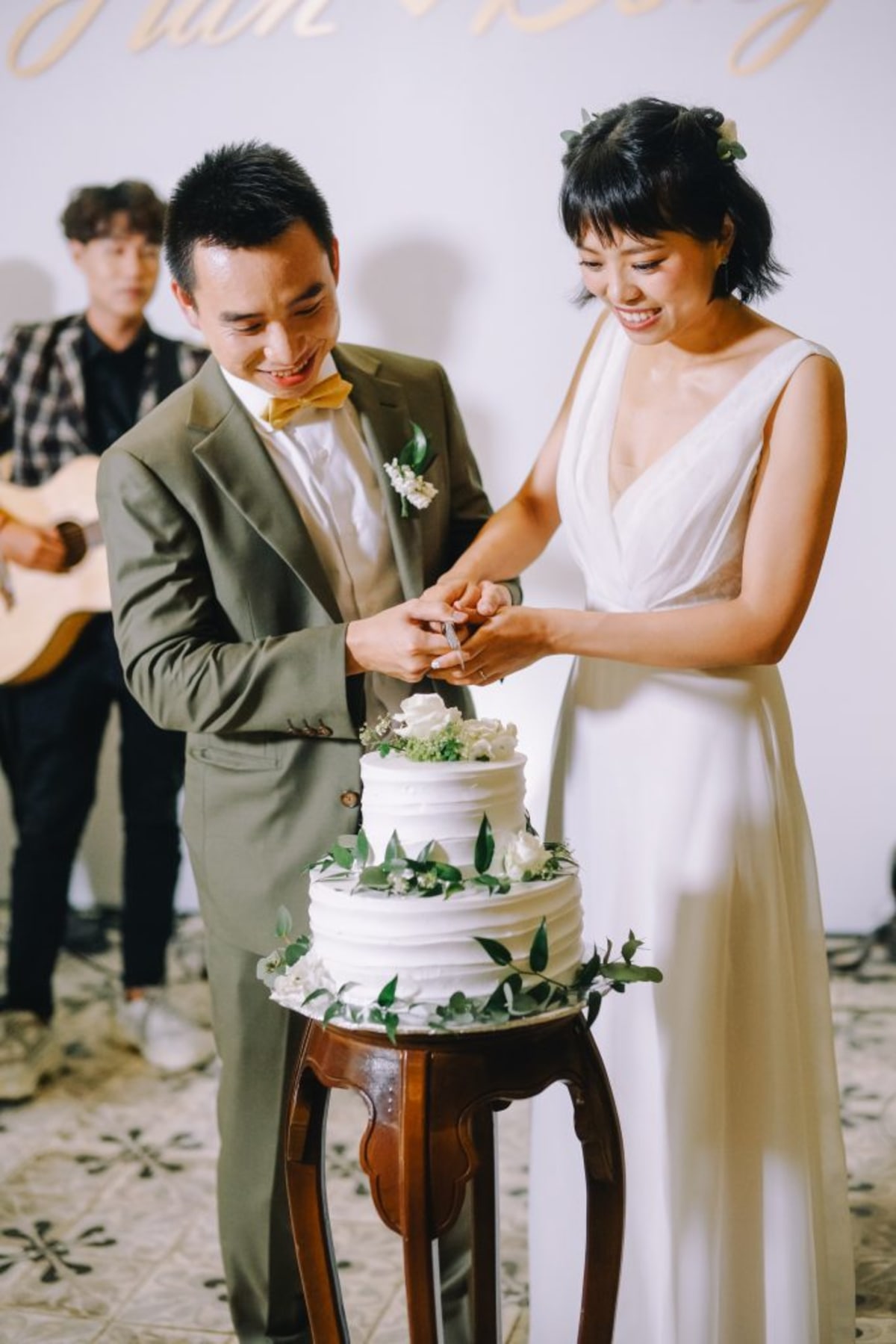 Gentle, simple style: A suit that has no more than two colors in a bright tone speaks for its simplicity.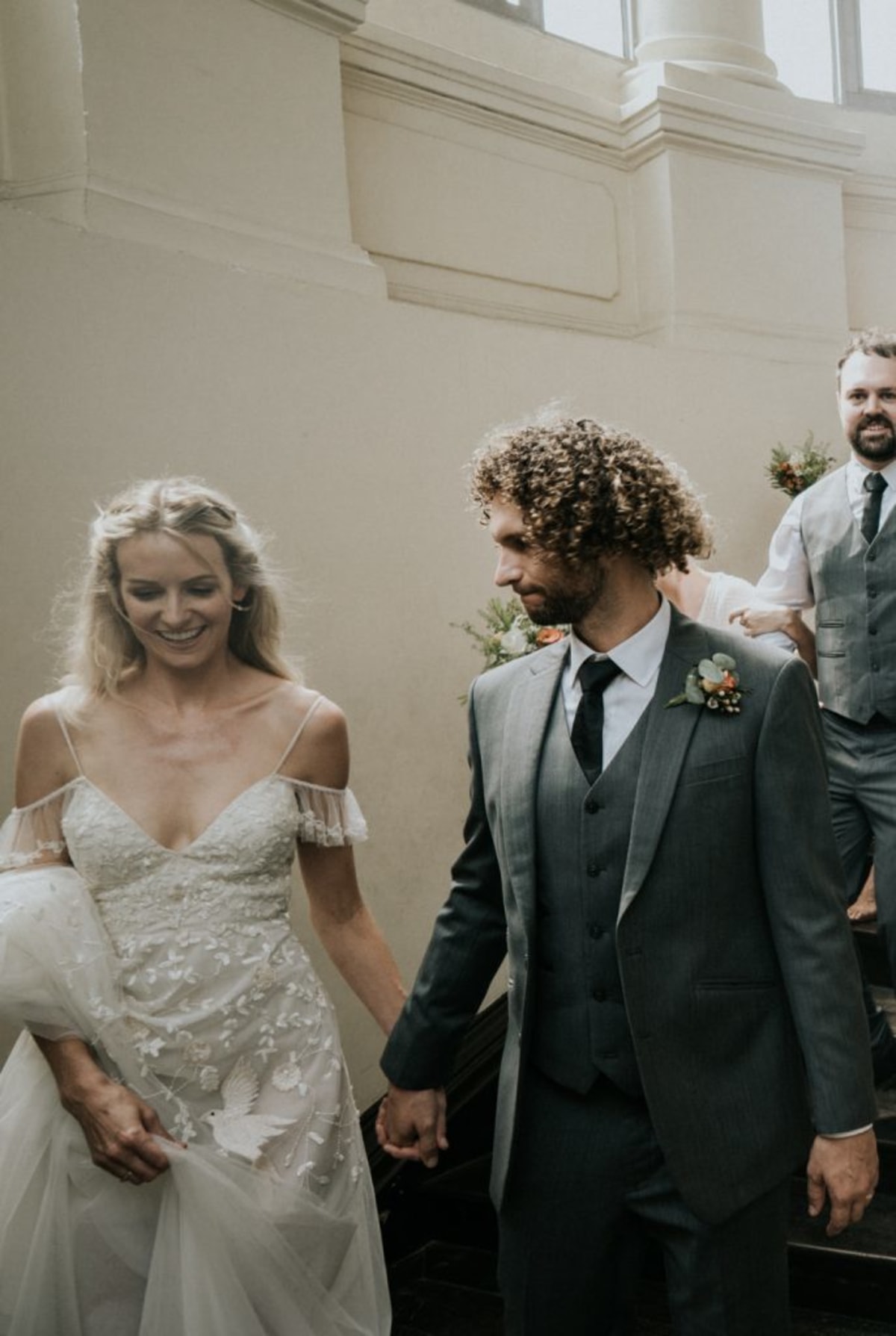 Classic European style: Choose a classy suit in ivory, beige, brown, or gray (with patterns) that can pair with classical accessories and flatter your body shape.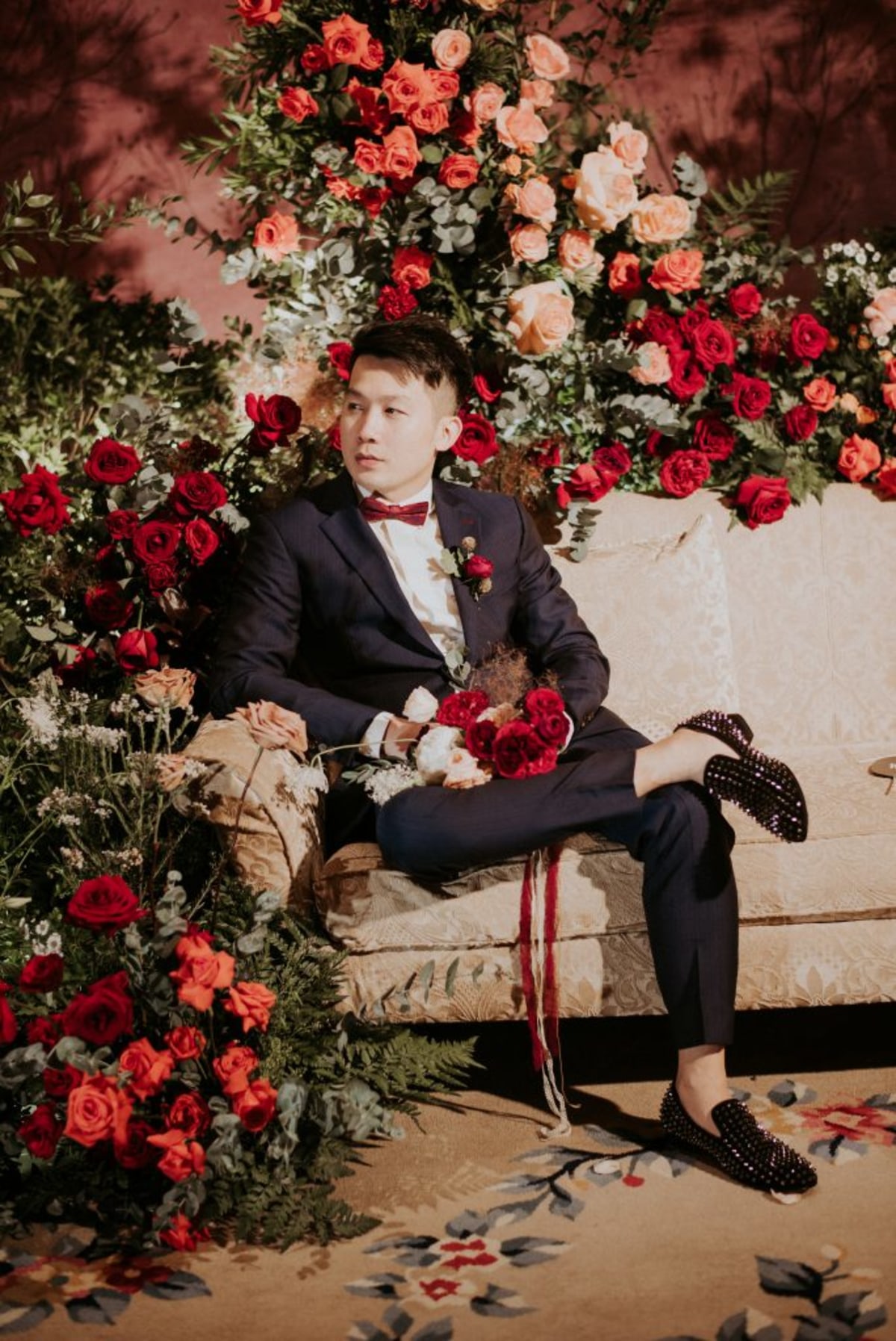 Modern style: Simply choose any basic suit that we mentioned above: two-piece, three-piece, or tuxedo.
Premium fabrics like 100% lightweight wool is highly recommended. Weave plain, Hopsack, Birdseye, or sharkskin are comfortable to wear. They weigh around 260-290 gram/meter fabric.
The color of the suit depends mainly on your silhouette and skin tone.
Bright colors (yellow, red, orange, and pink)
best match people who have light skin, short, skinny or muscular body shape.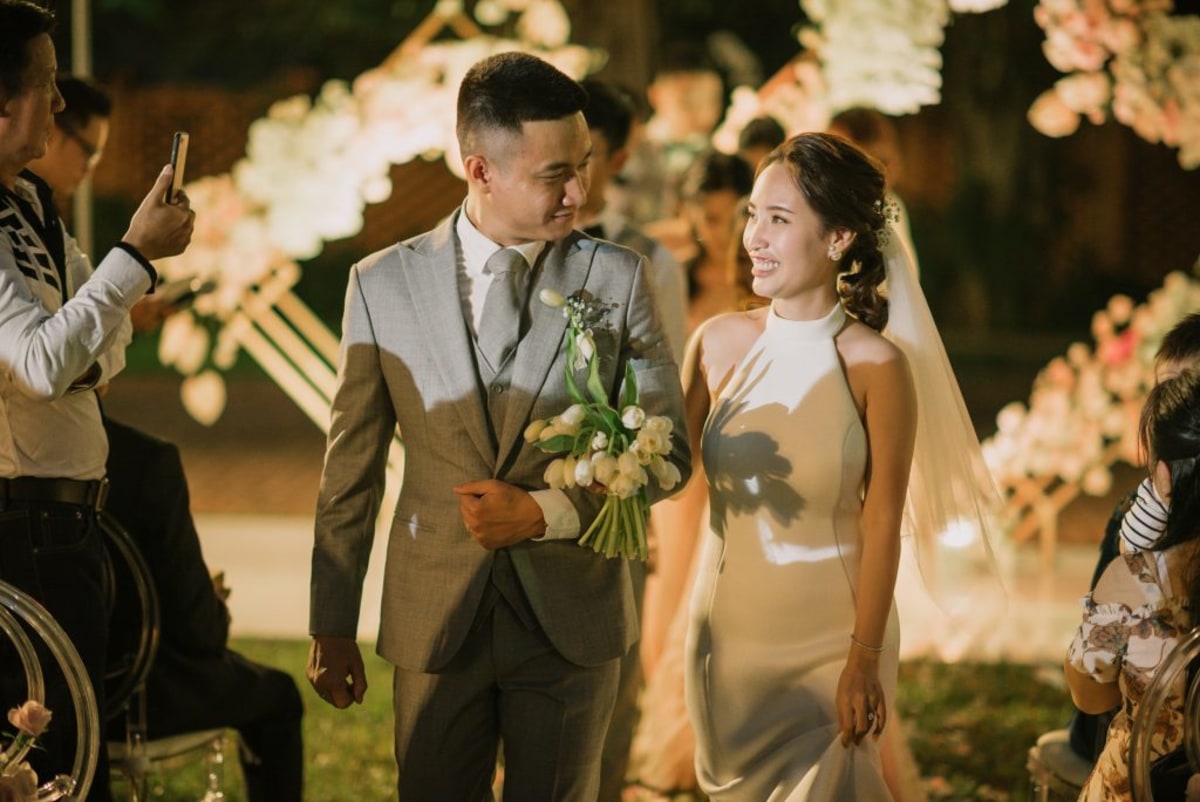 Neutral tones (ivory, beige, brown, and gray)
are suitable for any complexions and body shape.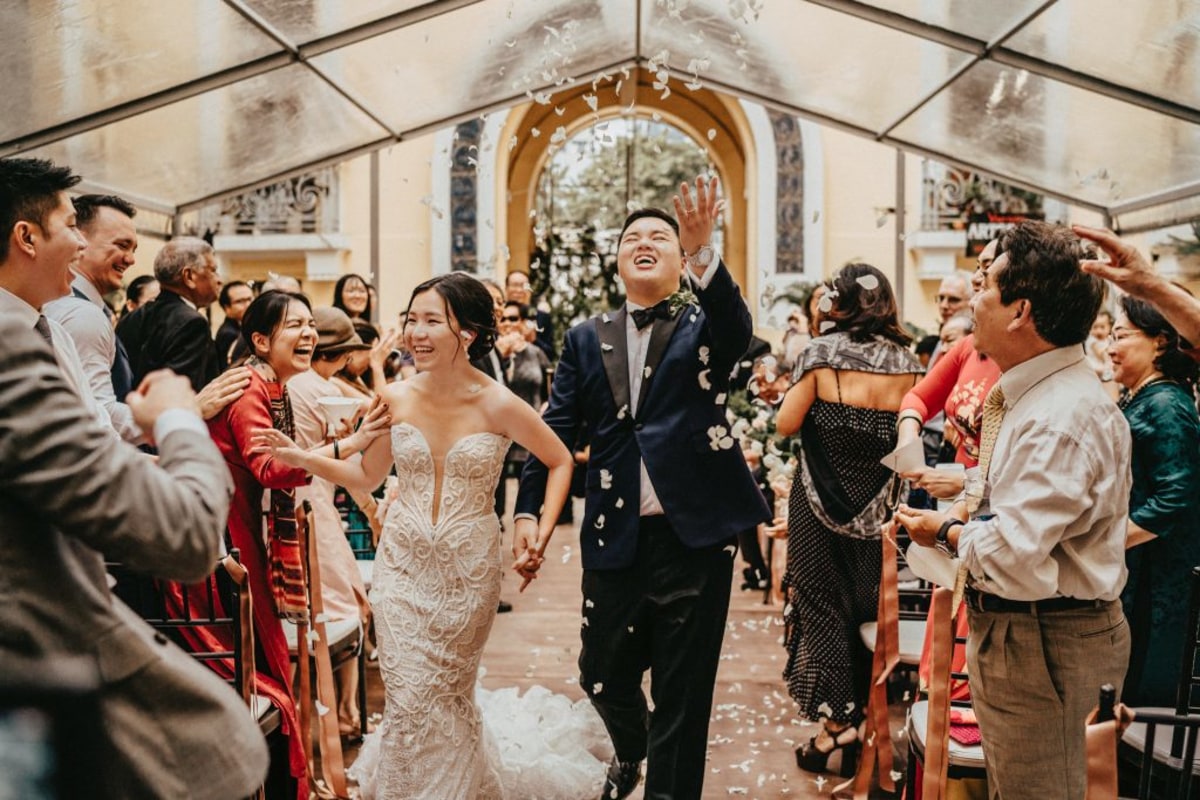 Dark colors (black, charcoal, burgundy, royal plum, and navy)
are recommended for light skin tone, athlete, or muscular body shape.
Shoes to wear with a Tuxedo:
Black polished leather or polished black Oxford shoes.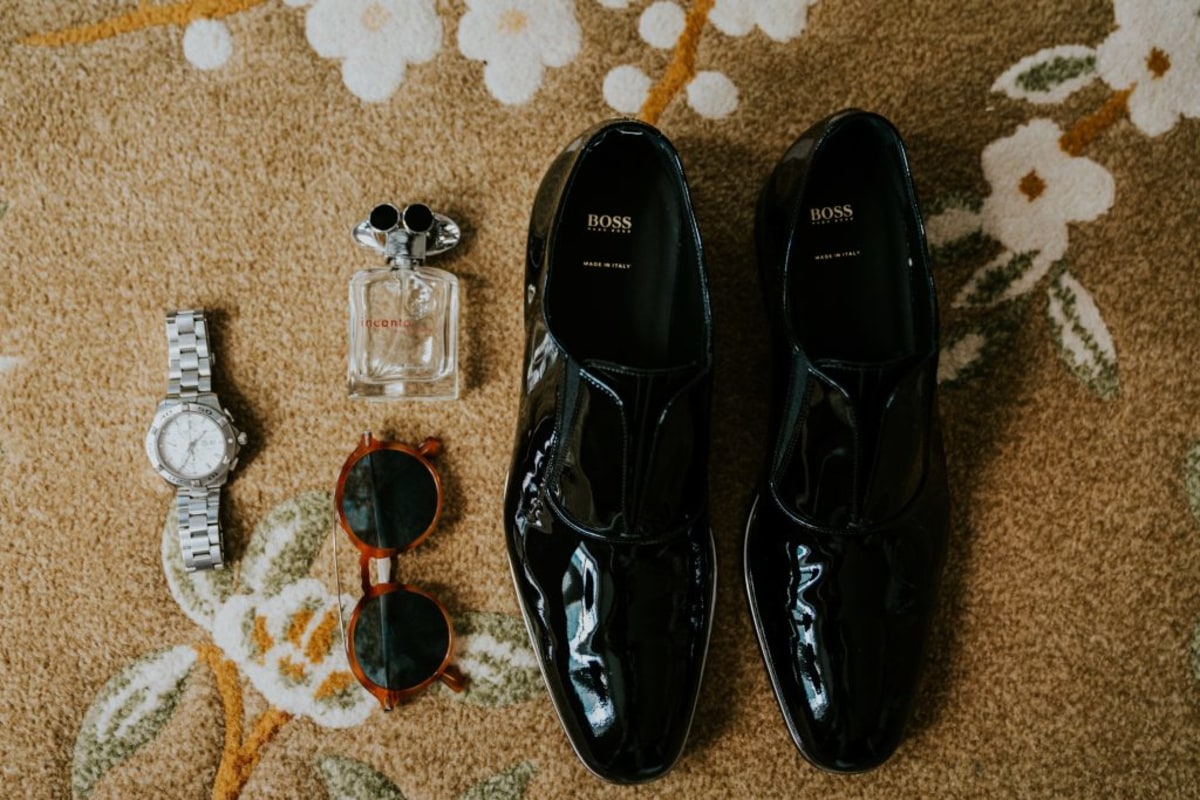 Shoes to wear with the usual two or three-piece suit:
Loafers, Oxford shoes (not Derby). Basic colors like chocolate brown, light brown, buff-brown, or Bordeaux are the best suit. Try to avoid black shoes.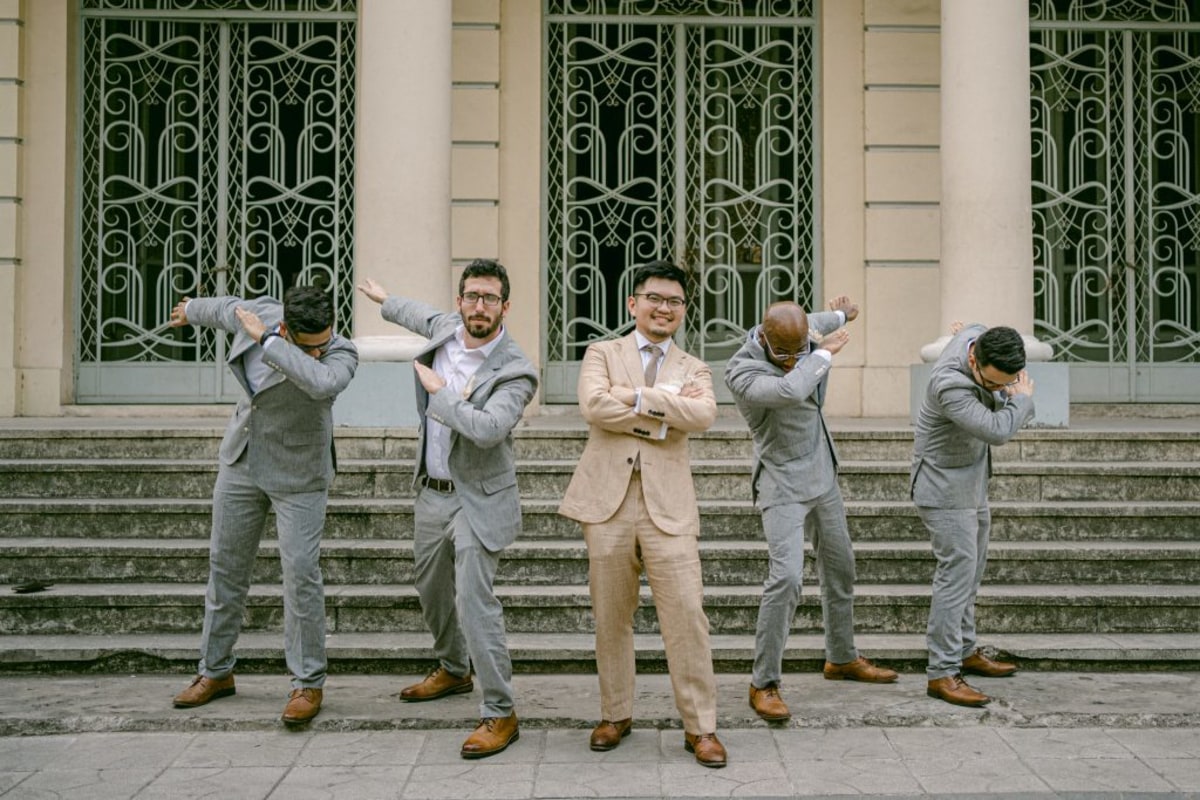 WHEN YOU VISIT YOUR TAILOR:
– Make sure you have an appointment in advance.
– Choose the shirt that fits you best when you first visit the store. It helps to get accurate measurements.
OTHER RECOMMENDATIONS FROM HOC'S EXPERIENCE:
– The three most essential things in a perfect suit are the cut, the tailor's technique (every tailor has their own process and expertise in making a suit), and the color.
– A fabulous attire should not have more than 3 or 4 colors.
– When wearing a single-breasted suit, only one button should be buttoned when standing and unbuttoned when sitting. With a double-breasted suit, it is recommended to leave the button buttoned.
– When the suit is the main highlight of the outfit, accessories like shoes, ties, and square pockets should be in a neutral color.
– When the suit is in neutral tones, make your shoe or tie the highlight of the outfit.
– Don't wear a black suit on your wedding day.
– Leave extra time for the suit to be fitted, around 2-3 weeks before the wedding.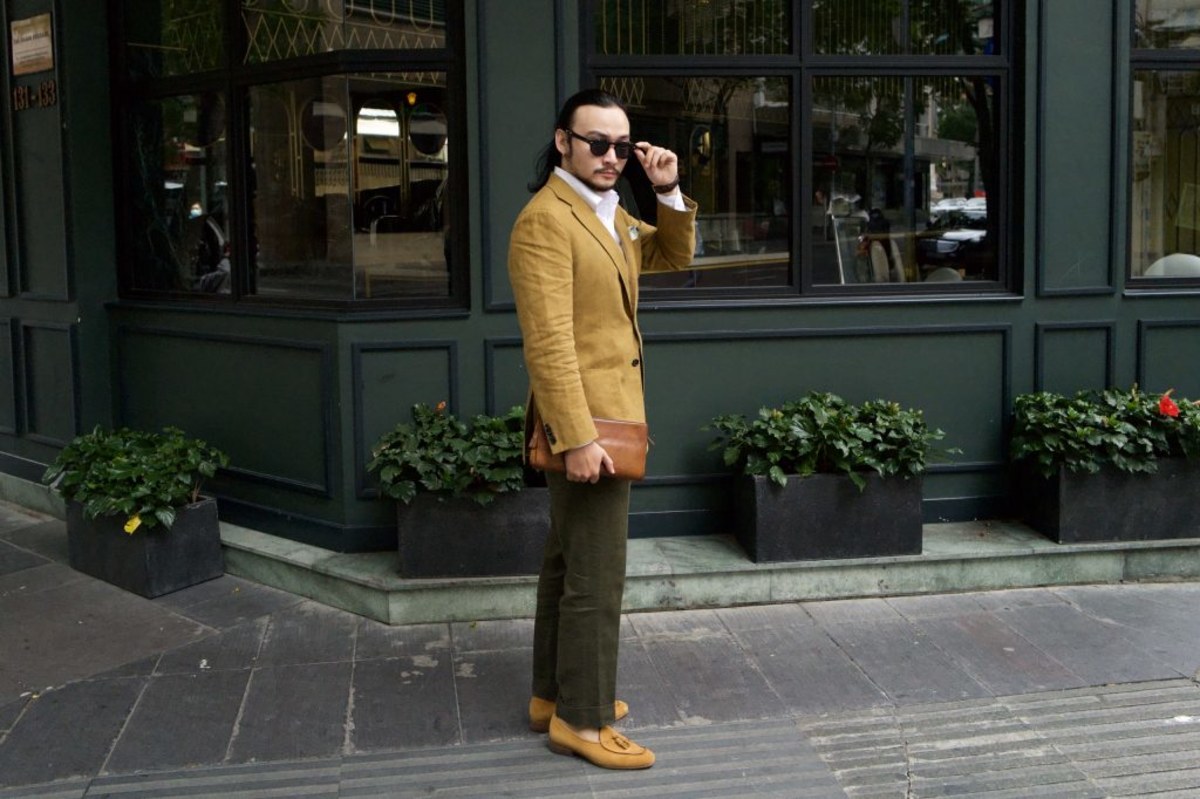 Be confident when wearing a suit because fashion lies in your enjoyment.
Be confident when wearing a suit because fashion lies in your enjoyment.
Choosing the right suit will not be easy, but with the help of Hoc, we hope you will be more comfortable in choosing the perfect wedding attire. Undoubtedly, the bride will steal the show, but you want to look your best while walking her down the aisle.
Love,
The Meraki Team